The Arlington AAUW Branch has been very active in STEM work. We have coordinated four STEM Conferences – in 2011, at Gunston Middle School, a conference for 100 girls and their parents; in 2012, at Kenmore Middle School, a conference for 200 girls and their parents; and in 2013, in conjunction with Marymount University, a conference for 50 3rd-5th graders from Hoffman-Boston Elementary School. Each conference included three hands-on workshops presented by 10-20 young women in various scientific fields, lunch, a keynote speaker and door prizes.
On October 24, 2015, we conducted a National AAUW Tech Savvy STEM Conference, in conjunction with the Alexandria Branch AAUW, at the Northern Virginia Community College, Annandale campus. It included 80 girls, grades 6-9. The girls attended three hands-on workshops on physics and engineering topics such as robotics, facial recognition, creating apps, and geospatial remote sensing, as well as two "Savvy Skills" workshops such as Internet Safety and Public Speaking. They also participated in a College Savvy workshop where they were "interviewed" by three college/universities based on their college applications they had submitted. The keynote speaker was Sandra Cauffman, NASA Deputy Director of the Mars Maven Project. The parents, as well, had a similar schedule with workshops on topics important to raising young women to study STEM topics in high school and college. The conference was sponsored by BAE Systems.
Susan Senn – Lead
---
"Grasses to Masses"
From February through May, the third graders in the Extended Day Program at Jamestown Elementary, under the guidance of Anna Senn, supervisor, grew "celery", an important Chesapeake Bay grass (SAV) which acts as a filtration system for nutrients and as a nursery for crabs and fish. The grasses were planted at Mason Neck in Prince William County on May 6 under rather adverse weather conditions.
---
STEMbox- New Subscription Service for Emerging "Steminists"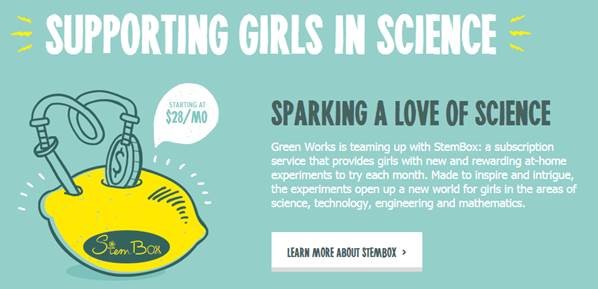 StemBox is a monthly subscription service that sends young girls a fun and educational science experiment each month. StemBox and Green Works have partnered up and will donate $1 to AAUW for every March 2016 box sold. This money will go directly to powering our national Tech Trek program. Order a STEMbox for a special young girl in your life!