On Thursday mornings, when Congress is in session, volunteer members and college student interns give the AAUW Action Fund (Public Policy) a voice and face on Capitol Hill. The Corps is briefed on that week's priority and then proceeds to selected congressional offices to educate policy makers. Because the Corps has worked hand in hand with lobbying staff, AAUW has had a significant political impact on legislation concerning issues such as: education, civil rights, reproductive rights and economic security. There are more than 1,200 AAUW Lobby Corps members who lobby each session and report back to AAUW Action Fund staff with helpful information for follow-up and grassroots activities.
Marcy Leverenz – Lead
---
Lobby Corps Training Stones of Hope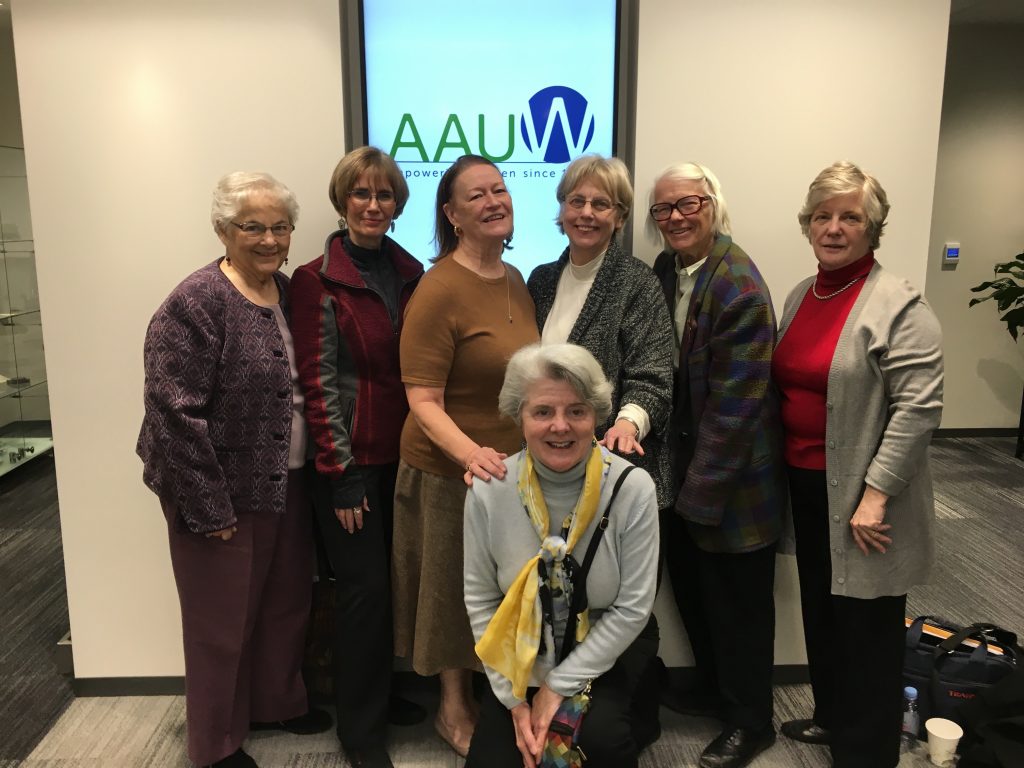 To borrow a phrase from a Martin Luther King Jr. speech, here are the Arlington Branch's stones of hope: Marjorie Hobart, Lavona Grow, Mary Spatz, Marcy Leverenz, Chris White, Sara Anderson and member-at-large from Arlington, Penny Wakefield. These women were part of the 60 participants in the January 11, 2017 AAUW Lobby Corps Training. We will be carrying on the work of empowering women and girls.
AAUW's Government Relations Manager, Anne Hedgepeth (standing) and Lisa Maatz, Vice President of Government Relations and Advocacy (seated) gave us an overview of what to expect and some strategies to employ. Anne talked about procedural functions that will be used by this 115th Congress. Lisa reminded us that AAUW is an issues-oriented. AAUW is well regarded on Capitol Hill and has a historical voice that is rooted in consistency and perseverance. Not only do we lobby for and against bills but also for and against nominations. She urged every one to sign-up for the TWO MINUTE ACTIVIST and share this information with family and friends, post it on social media sites. Call you member of Congress or write a letter to the editor.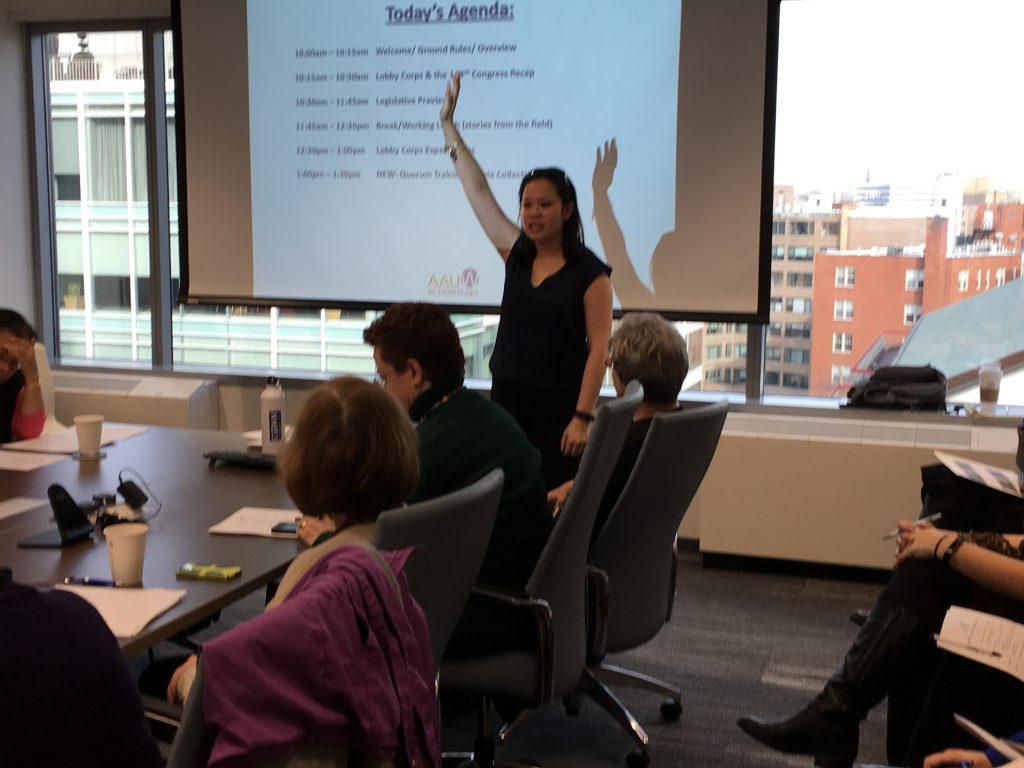 Pam Yuen, Government Relations Coordinator and Lobby Corps Manager, shared some of last year's Lobby Corps Achievements.
1100 Visits – and this is an election and we didn't lobby in December
Visited 68% of the Representatives and 100% of the Senators
Visits to Members of Congress from all 50 states, Guam, Puerto Rico and the Virgin Islands
Lobbied on 23 different bills or issues
Paycheck Fairness Act – garnered 6 co-sponsors
Recruited over a dozen new members to Lobby Corps
Stopped the DC School Voucher Bill
HALT Act –garnered 45 co-sponsors
Pam also explained the lobbying process in depth and what to expect from our visits.
We have been and will be very busy, optimistic and hopeful
Please join us.
Marcy Leverenz
AAUW
Lobby Corps Coordinator