AAUW Branch Programs September 2017 – June 2018
Most evening branch programs will be held at the Women's Club of Arlington, 700 S. Buchanan St., Arlington, VA 22204
Times of evening programs: 7:00 PM – 9:00 PM.
---
Tentative Program Dates for 2017-2018
Monday, Sept. 18
Arlington AAUW Meet and Greet Fair
Guest speaker: Paula Whitacre, author, A Civil Life in an Uncivil Time, about abolitionist, Julia Wilbur in Alexandria and Washington.
Saturday, Oct. 21
Introduction and welcome to the new AAUW CEO, Kim Churches. This will be held 1:30 – 4:00 PM at the Kings Park Library.
Monday, Nov. 13
TBA.
Saturday, Dec. 9
Annual Holiday Celebration at the Fort Myers Officer's Club
Monday, Jan. 22
STEM – Guest speaker: Alice Tangerini, a scientific illustrator at the Smithsonian.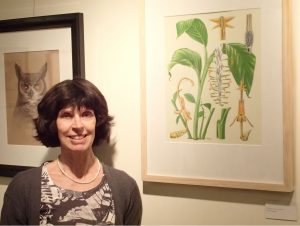 As a Staff Illustrator for the Botany Department at the National Museum of Natural History, Smithsonian Institution, Alice Tangerini has been specializing in drawing plants in pen and ink and graphite since 1972 and since 2007 her illustration media has included digital color. She has illustrated at least 1000 species of plants appearing in scientific periodicals, floras, and botanical and nature books. In addition Alice teaches classes in illustration techniques in botanical gardens and in academic institutions. Her responsibilities in the department also include managing and curating an extensive collection of botanical illustrations; a portion of which can be viewed in the Department of Botany public web site; http://collections.mnh.si.edu/search/botany/?ti=6
Monday, February 26
Tentative snow day
Saturday, March 24
"College Women Today"
Central Library, 10:00 AM – 12:00 PM. Also, our Annual Business Meeting will occur, including election of new officers.
Saturday, April 21
Presentations followed by Question and Answer Session with local and state representatives. Possibly to be held at Shirlington Library.